Story
Wife of ice hockey player Pešána: Sexy vacation in the mountains! The bra went down
His engagement with the native ended in a complete fiasco. As soon as he was fired and the position of head coach was replaced by Finnish Kari Jalonen, the Czech hockey players finally achieved success in the form of a bronze medal at last year's world championship. Currently, coach Filip Pešán is struggling in Switzerland, his team is hopelessly last. The consolation for Pešán can be his beautiful and supportive wife Lucie, who now fills her Instagram profile with hot pictures from her vacation in the Alps. She bathed naked in a mountain lake, and after climbing the mountain, she threw away her shame and bra again!
"The last peak of the climbing season, next week I will start the winter, ski and ski alpine season. Thank you rocks, see you again in the spring" she texted from the Austrian Alps Lucie Pešánová Hrstkováwho posted some sexy photos from her vacation in the mountains on Instagram.
In one of the pictures, the former Czech representative in alpine skiing poses topless, as if showing her "treasures" to other climbers.
Lucie took out her treasures in the mountains!
"Hello, goats out," he says in the comments under the embarrassing photo. Some are wondering who took the daring photo, because husband Filip Pešán is now fending off his charges in Switzerland.
"That was a self-timer, of course," explains Lucie, who also added a photo of her naked bathing in crystal clear mountain water.
"These mountains are beautifully wild, rugged in their unspoiled nature, with an azure river carving its course through the limestone rock. And the silence and clarity of the Milky Way took my breath away again. My equally wild heart fell in love with them at first sight, at the first touch of the rock, at the first view from the peak to the valley. I have a feeling that we will experience more together" the wife of a well-known hockey coach let herself be heard.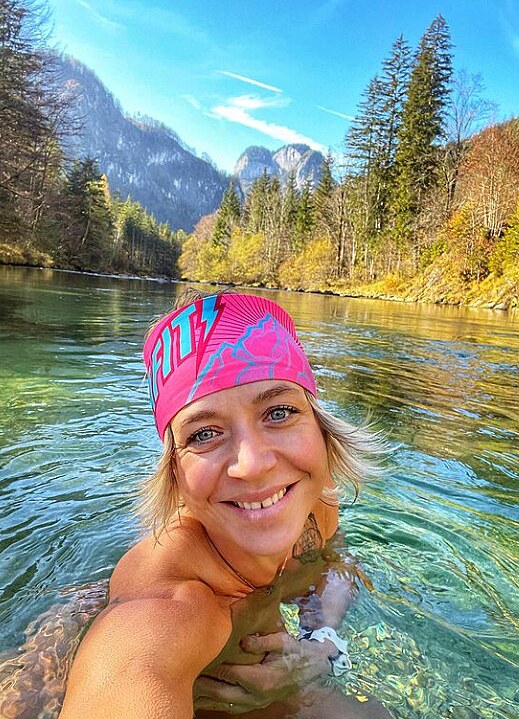 Lucie stripped naked during her holiday in the mountains!
While Lucie Pešánová Hrstková is frolicking in the mountains, her husband is trying to repair his reputation after an unsuccessful engagement with the hockey team.
Pešán, who was the head coach of Czech hockey, was taken over by the Swiss team Ajoie shortly after he was fired. He then signed a two-year contract in May. The management of the club expected miracles from him. For now, however, the team is crouching in last place. In the last ten matches, Pešán's men have lost eight times and have an unflattering score of 52:77.