Story
She lost her cafes because of the divorce: Iveta Fabešová did not give up and reports a big comeback
"Sometimes you have to sail through a real storm, because calm water doesn't make us a captain. A text that I uttered a few years ago, having absolutely no idea that my storm was just ahead of me," she stated after a while Iveta Fabešováwho has had a divorce and a time when she hit rock bottom.
"Today, it is difficult to retrospectively assess how certain things could have happened. However, for one thing I am incredibly grateful for this whole situation. For that fall into the hillside that forced me to get up off the ground and fight for myself, for my children, the work I've done in recent years," says the resolutely successful confectioner who had to start all over again. Fortunately, she had people around her who helped her quickly bounce back from the bottom.
Whether it was co-workers who took her side after the divorce and not her ex-husband's, and last but not least also representatives of the Jan and Meda Mládk Foundation. They also preferred her and offered her the space in Werich's villa. Thanks to them, she was therefore able to open her new cafe quite soon.
"It is difficult to express the feelings of overwhelming joy and gratitude as I sit today in my cafe in the Werich Villa, which is full of enthusiastic people," the successful participant of the reality show Na nože from 2011 is calving with happiness.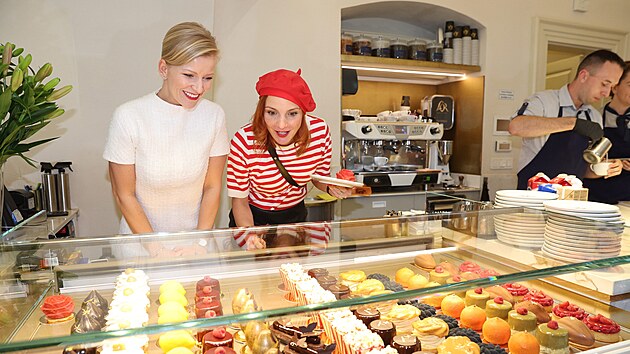 Actress Míša Maurerová christened Iveta Fabešová's new cookbook. And she did it very gladly, because she loves desserts from her, for example in the cafe in Werich's villa.
"My heart trembles when I see your bright eyes and feel the meaning in what I do, after every time you express my admiration. At that moment, I know that every single scar on the soul has a meaning." said Fabešová, who christened her new cookbook Everything Festive in her cafe in Prague's Kampa.
In it, the confectioner was inspired by traditional recipes from Maria Sandtnerová, and readers and bakers with a sweet tooth can find dozens of proven recipes for popular Czech holiday sweets and desserts, all in an enticing modern presentation.