Story
Prague is without leadership for the next (at least) weeks: Spolu wants to limit the powers of Hřiba and spol
The constituent assembly was held at the Prague Municipality today, but it did not lead to the creation of a new Capital City Council. The parties only agreed to extend the deadline for post-election courtship until November 24. There was also an agreement to control the expiring Council so that it could not make major decisions.
The negotiations in Prague were stuck at a dead end after the Pirates and Prague Sobje cemented themselves in the so-called Alliance for Stability. Their agreement is that they will continue to act only together. This is not to the liking of the winning coalition Spolu, which since the elections has been striving for a coalition on the government's plan and does not even want to hear about Soba in Prague.
Waiting in the background is the ANO movement led by leader Patrik Nacher, who could definitely imagine cooperation with Spolu.
"I had a very good personal feeling. I didn't even expect that we would talk purely about the content, but we really spent an hour discussing only the content, i.e. what we agree on and what we differ on, whether it concerns traffic, parking, audits, or some other procedure in the management of the city . We agreed on all of this. I have probably never experienced such a constructive meeting. I was very pleasantly surprised, really. I feel very good about it." described Nacher to Expresa after the first joint meeting.
However, he alludes to the fact that Bohuslav Svoboda prefers the aforementioned government coalition.
The constituent assembly was held at the municipality today, but due to the aforementioned, it did not bring a new Council. Until the last moment, we were waiting to see if Spolu would pull an ace up his sleeve, but it didn't happen.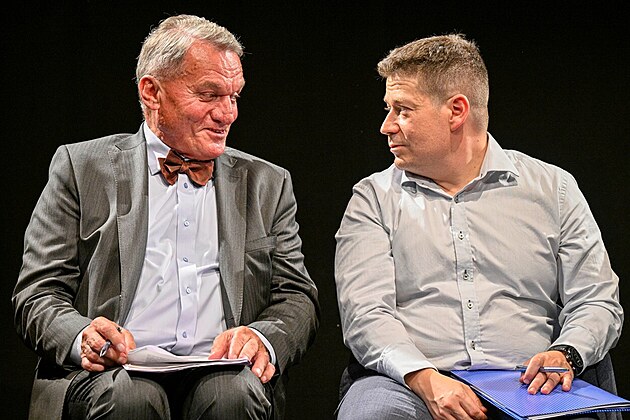 Bohuslav Svoboda and Patrik Nacher
The only move was the agreement regarding the control of the expiring Council so that it could not take fundamental measures. Together, they criticized that Mayor Hřib and his colleagues still do not respect this.
Another milestone, which the eyes of the people of Prague will focus on, is the next constituent assembly, which should take place on November 24. However, there is no need to reach an agreement on the new city management.