Story
Kryštof Stupka defends his singlet at the conference: They didn't prescribe anything to us and it's warm in the jacket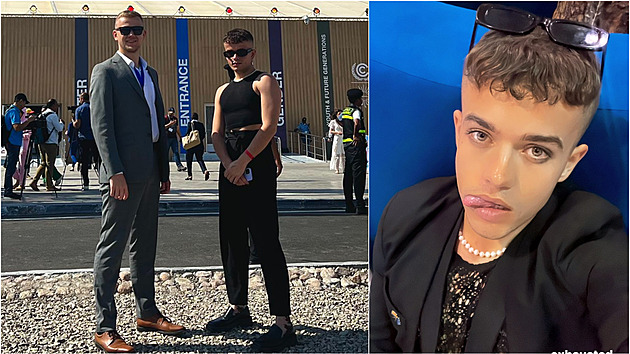 Kryštof Stupka published an extensive statement in which, among other things, he explained what he was actually doing at the climate summit and who sent him there.
"I am in Egypt as a young delegate of the Czech Republic to the UN. It is a voluntary position to which I was chosen by the Czech Council for Children and Youth, the Ministry of Education, Youth and Sports and the Ministry of Foreign Affairs, and which I took up with commitment and responsibility. The program is part of the UN's long-term effort to bring multilateralism closer to young people," wrote a young man who appeared, for example, at the Prague climate demonstration of Greta Thunberg's Fridays for Future movement.
"What am I doing here? We popularize the events at the UN to young people in the Czech Republic and, conversely, their opinions to policymakers at the COP. During my trip, for example, we talk with representatives of the Czech delegation or cooperate with other young EU delegates on the creation of youth climate opinions. There is much more to it," he added.
But the speech also came to a more personal topic. This is the kind of fashion that Kryštof Stupka loves, he likes to appear in women's clothes, often quite flashy. However, the fact that she is wearing her favorite top or giant earrings at the international summit where she is supposed to represent the Czechia is, according to some, over the line and not representative in the slightest.
"Dress code: does not exist. Different cultures, activists and policymakers mingle at the COP. It's important for me to stay myself," stated Stupka, adding several sharp comments about his outfit.
Even his explanation is not enough for many people.
"Even if there is no dress code, you should be dressed appropriately for the seriousness of the event. Sorry, but to come to such an important event dressed like this is insulting. Not so much for the people who are there, but for us young people who you represent there. Please not like this," one of the commenters told him.
"Nothing personal, but just because there's no dress code doesn't mean you have to look like a bogeyman." Once you are part of a government delegation, you should represent, not yourself," another is added.
However, Kryštof Stupka defends himself by saying that he normally wears a jacket at the summit, but it is so hot outside in Egypt that he has to take it off.
At COP27, the young activist met, among others, Slovak President Zuzana Čaputová. He traveled to Egypt aboard a government special train alongside Prime Minister Petr Fiala.