Story
Kristýna Leichtová curses the consumer society. She says she doesn't buy clothes and talked about slavery
Kristýna Leichtová (37) likes to discuss controversial topics on Instagram. She recently complained about pensioners complaining about her children and how difficult it is for mothers to just go and sit in a cafe with their little ones. Then she spoke about feminism and now she started talking about consumer society. She revealed that she hardly buys clothes anymore and also talked about slavery.
Kristýna Leichtová she recently received an imaginary slap from the public when she scolded pensioners in a cafe who were reprimanded by children for making noise. Instead of an apology, the actress fought for the fact that even a mother with children has the right to sit in a cafe, and Kristýna subsequently shared her feelings on social networks. Now she has taken the shops and the entire consumer society to task.
"I hate the enormous consumerism of our society! I really hate the attractions in stores for children that are placed low so that they can see it and start: I want it." the actress admitted, saying that she is not surprised by the children at all. She's mad at the stores.
"I do not correct the outburst of emotions in any way. As a punishment. And no, I will not buy a piece of junk made by a "slave" somewhere in a forgotten land,"She stopped taking napkins. Few people would want to meet her in a store looking so disillusioned. For many people, the comment about slavery was over the line, but the actress is popular in Western society.
In one of her past posts, she talked about feminism and how it is still needed because women are pilloried for going back to their roots, wanting to work in a male field, or going out for coffee with their children.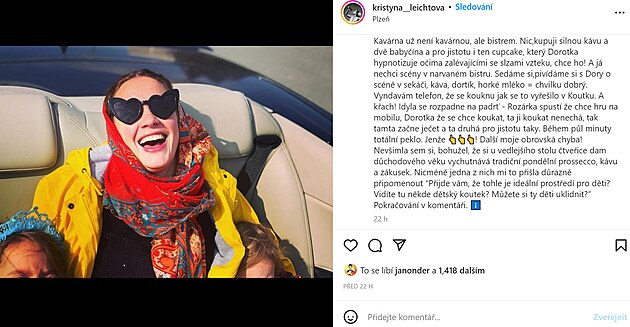 Kristýna Leichtová complained about pensioners who wanted to drink coffee in peace.
She went on to say that she tries to lead her children to the same attitude, explaining to them how high prices she really pays for things and that she doesn't even buy new clothes for her family unless they are from local designers.
"80% of the world's population suffers from malnutrition and lives in poverty. We are lucky, and certainly to our credit, that we were born among the 20%," then a fan of Láďa wrote to Leichtová. But he probably miscalculated a bit, according to the website Action Agains Hunger, not even 10% of people in the world suffer in the current situation.