Story
Kincl took a dig at Vémola because of his romance with Rika: You don't care about my privacy, Karlos blurted out
Every MMA fan knows that there has been bad blood between Patrik Kincle and Karlos Vémola for years. In the cage, they will share it together for the second time on the penultimate day of this year, until then they have time not only to prepare, but also to get under each other's skin.
Vémola is the champion in that, but Kincl is in the show Face to face he stuck out his horns and started poking at his weakest spot at the moment. This is the affair with the porn actress Rika Fane, who published several voice messages proving their romance during the period when Karlos was married to Lela.
"At the moment, the whole republic knows that Karlos is looking for mistakes quite a bit. Different, whether in sport or in life. So, hey, I can wait twenty-five minutes and hope that the bug will come," Kincl responded to Vémol's words that his only tactic for the match could be to wait twenty-five minutes for a mistake, which he won't make.
In addition, Kincl made it known that, according to him, Vémola is actually harming the Czech MMA with his affairs. It is a strong statement, often even its opponents agree that no one in the Czech Republic has done more for cage wrestling.
"In light of the current situation, it seems ridiculous, I must say. Some people find negative advertising to be advertising, but I don't see that, despite the sell-out of the O2 arena, big partners would go to MMA. Banks, insurance companies, CEZ or something like that. The sport is at a level that it should have such partners. But whenever I knocked on a door…," Kincl explained his words before Vémola joined them.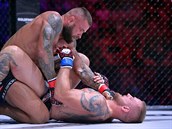 It was fought like this for practically the whole match. On the ground and according to Vémola!
"So they fired you and Vémola is to blame, right?" he tossed in amusement.
"Your name has been mentioned quite often, yes," said the current middleweight champion.
But Vémol did not like the allusions to the ongoing case with Rika Fane at all. He strictly refused to talk about them, saying that he was here to discuss sports and their upcoming match.
"He (Kincl) always makes it personal. But on my personal level, he's fine. We should be discussing sports performances here, which he did not perform in the first match. Now he should show the fans that he can deliver. I will talk to him about the sports side. If he wants to talk about the personal side, fuck it, I won't talk to him at all." Carlos stated.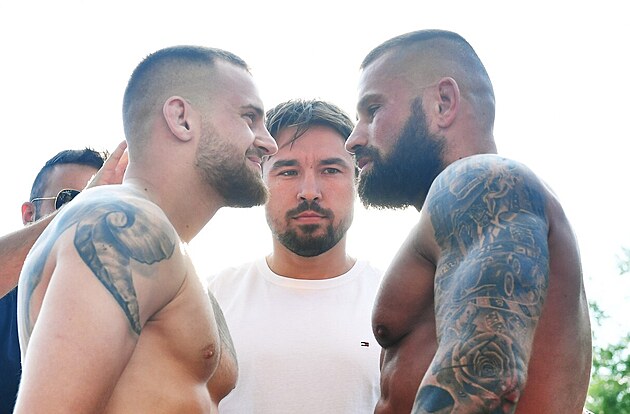 Patrik Kincl and Karlos Vémola before the first match in 2018
At least marginally, he offered his perspective on the whole matter. Again, he mentioned that the case felt like it was targeted and meant to affect him before the match.
"Of course it bothers me, but it's so fresh that I don't want to discuss it here. I'll talk about it one day. But with it being escalated like this before the match, I'm more interested in who's blowing it up and if it's all one big campaign. It's not something I'm going to let affect the match and my relationship with Lela. I will not discuss it here or with other media. If he (Kincl) wants to discuss my love affairs, so be it, but let him discuss it at home on those podcasts that no one listens to." he concluded sharply.