Story
Ivanka before the trip to the Czech Republic: Women's ride with Kim Kardashian! They dealt with crazy Kanye
The spectacular arrival of Ivanka Trump at the Ruzyne airport is approaching, her private jet should land at the third terminal during Wednesday. Here, the daughter of ex-president Donald Trump has to deal with her mother Ivana's inheritance, but also the more pleasant duty of receiving a state award for her. Even before she left for the exhausting journey, Ivanka went on a ladies' ride for several hours with one of the biggest celebrities in the world, Kim Kardashian. Undoubtedly, they dealt with, among other things, Kim's ex-husband Kanye West and his anti-Semitic statements, because Ivanka is Jewish.
Ivanka Trump is not having the best time of her life. In addition to the death of her mother and now having to deal with the inheritance, her husband Jared Kushner is battling, thankfully successfully, cancer.
Nevertheless, the nice blonde tries to enjoy life to the fullest. Before leaving for the Czech Republic, she had a rich schedule, during the weekend she went to orchards with her children, today she and Jared are celebrating their thirteenth anniversary.
In addition, she also found time for a ladies' ride with none other than world-famous TV personality and Instagram's seventh most-followed celebrity, Kim Kardashian.
The ladies visited the luxurious Polo Lounge at the Beverly Hills Hotel together. They spent three hours there together and no doubt discussed Kanye West.
The controversial rapper and ex-husband of Kim Kardashian is being criticized in the world due to a series of anti-Semitic statements, due to which global brands, including Adidas, are breaking up with him, while neo-Nazis are praising him.
Ivanka is undoubtedly interested in the case, because she is Jewish, she converted because of her husband Jared.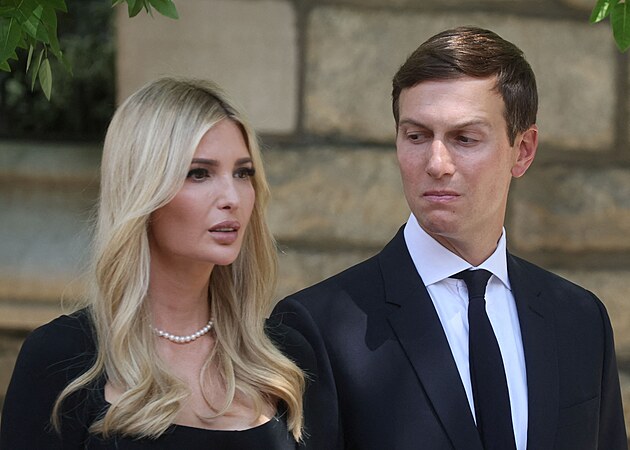 Ivanka Trump with her husband Jared Kushner
The relationship between the two American cats is very interesting. While Ivanka helped dad Donald in the first presidential election with the presidential campaign and acted as an adviser to him, Kim openly supported Hillary Clinton.
At the same time, they have known each other for many years. Moreover, unlike other celebrities, Kardashian was not opposed to Trump, on the contrary, she later visited him several times in the White House, discussed with him the reform of the prison system, which she wanted to advocate for.