Story
David Švehlík deceives with his body: The moments when he is the center of attention are torture for him!
"Once it is a mysterious stranger of Italian origin. Sometimes it's a hunter, sometimes it's a mouse. And then mainly Krakonoš," he says about his role in the Christmas fairy tale Krakonoš's Secret David Švehlík.
He was not so eloquent at the pre-Christmas press conference in the Klementina Chapel of Mirrors, where Czech Television representatives presented the premieres and highlights of the holiday program. When he was given the floor as a star of one of the news stories, he mainly managed one-word or very short answers.
It could be seen that he does not look for such moments and does not feel twice as pleasant. Moderator Jana Peroutková therefore did not bother him for long, which the popular actor acknowledged with a relieved and at the same time apologetic expression on his face.
When he came to the Chapel of Mirrors before the start of the press session, he felt quite numb. This happened after he saw clusters of invited guests standing in front of the entrance. He guessed correctly that the Christmas-decorated space would be filled to capacity. And yes, yes!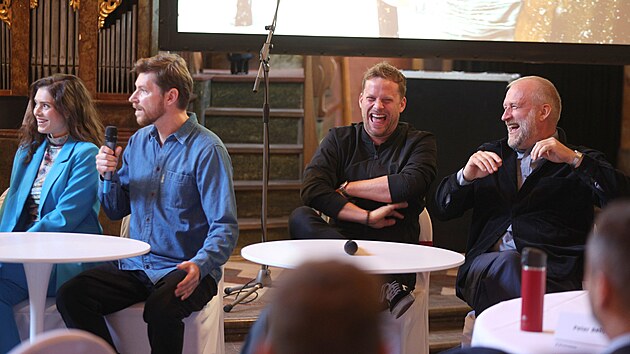 While Jakub Prachař had a great time, David Švehlík suffered the press.
Švehlík ended his "five minutes" of fame with honor. Especially considering that at times like this he suffers rather than enjoys being the center of attention. However, this does not affect his performance in front of the camera, on the contrary, he feels like a fish in water, which is also perceived by the audience.
He also enjoyed filming Krakonoš's Secret. "I visited many places for the first time, so I'm a little ashamed that I didn't know them until now. Like Doudleby nad Orlicí, for example. Beautiful place," Švehlík let himself be heard, who appreciates the fact that Czech Television approached him again.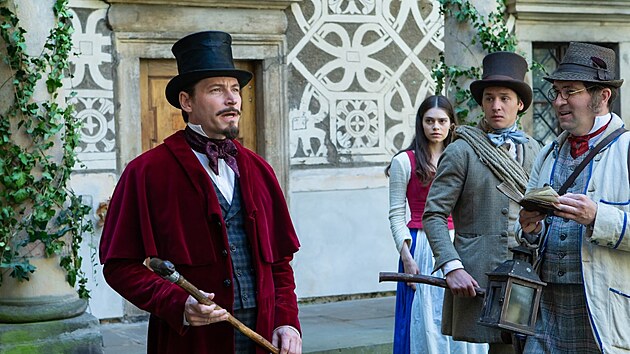 David Švehlík, Ondřej Sokol, Jan Nedbal and Leona Skleničková played in the fairy tale Krakonoš's secret.
"This is an undeserved honor. I am really happy about that fact. I like to act in a fairy tale that is well written, has a good cast, an excellent director, and this time there is something extra, I am a big fan of the Krkonoše mountains, so I had a little more pleasure to work on the fairy tale Krakonošo's secret." added the actor, who years ago shone in the fairy tale Angel of the Lord.
He enjoyed the role of master of the largest domestic mountains even more. Especially because Krakonoš meant a lot to him already at a young age. "I have known the legend about him since childhood. Thanks to František Peterek and the Krkonoše fairy tales, Krakonoše was an essential hero for me," he added.