Story
Chairman, we have to stop this shit! Someone is posting recordings with Vémola. Another testimony of companions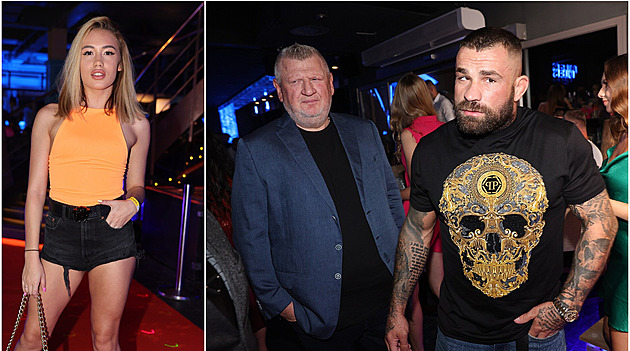 Karlos Vémola he was accused of infidelity several times in the past. Many believed that the July wedding with Slovak sex bomb Lela Ceterová would change him. It did not happen.
Karlos was recently accused of having an affair with the young porn actress Hana Džurbanová, who is known under the stage name Rika Fane.
Vémola vehemently denies infidelity from the very beginning, so Hanka recently came out on Instagram with evidence in the form of a private conversation. In the voice messages, the wrestler talks about a "two-minute date" and "flour" in a Prague club.
"I don't know the lady and the only person I should explain anything to is my wife. I'm so sorry for what some crazy kid will do for five minutes of fame. Even if it were true, bragging that she's dating a married guy and constantly trumpeting something somewhere, Lela and I won't break up, we're a strong couple. I don't want to comment on this lady," let Vémola be heard, who continues to stand by the fact that he had nothing to do with the porn star.
Chairman, call Tutter if this c**da can be stopped
Shortly after his strange statement, people began to notice an Instagram profile managed by a certain Nicol. She shares the alleged testimonies of dancers from nightclubs who allegedly saw Vémola with Rika Fane live.
For Karlos, this is far from the biggest problem. A live recording allegedly featuring his voice appeared on his Instagram profile.
"Chairman, please call Tutter in the morning (lawyer, editor's note), if something could be done about it, if the bullshit could somehow be stopped. It hurts Lela, it stresses me out before the match, this bitch, if it can't be blocked somehow and a lawsuit filed against her, I don't know why… Someone is calling me nonstop for spreading this bullshit. You saw what he was putting there, you have some details about it, find out what could be done with it, I will be very grateful." sounds in one of the voicemails.
Many may believe that the voice that sounds like Vémola means his loyal friend and influential businessman Ivo Rittig by "Chairman". However, according to Expres, it was a different addressee of the recording.
"Karlos gives nicknames to the people around him. Rittig and Novotny (Ondřej, head of Octagon) they are bosses, but the chairman is someone else," the source confided to Express.
Lela is at the cleaners, she got slapped
The second recording, which comes from this January, when Lela left Vémola under very dramatic circumstances, could get Karlos into even bigger problems.
She even publicly declared that her wrestler attacked, when she had her son Rocky in her arms. Vémola denied everything, Ceterová soon returned to him and they both pretended nothing had happened.
On the recording, Vémola is supposed to speak to a certain friend and describe to him the current situation, when Lela left Vémoland after alleged infidelity.
"Dude, she ran to the cleaners because she has nowhere to go, she got slapped too" sounds in the leaked voicemail.
The editors of Expres contacted Karlos Vémola. However, in his statement on Wednesday, he already said that he did not intend to comment further on the case, and kept his words.
In any case, the billionaire Richard Chlad has already outlined to Expres that a group of luxurious companions and dancers from nightclubs probably conspired against Vémol.
"I called it Kurvistan. That group lives on normally. I am afraid that Mr. Vémola must have upset those ladies in some way and unfortunately he became their victim. This can happen to anyone who uses their services, whether they are politicians, managers or entrepreneurs. They expose themselves to the risk of extortion," he explained to Expresa Chlad, according to which women are testing how far they can go, and Vémola is said to be the first swallow.